Built in 1903, this three story hotel features a quality of workmanship that made this hotel the pride of the community. High ceilings, claw foot tubs, a front row seat on the hotel porch overlooking Pioneer Park and easy walking distance to the historic downtown shops and eateries make this a destination.
Years ago most houses had large front porches. At the end of the day, you would sit on your front porch and read the newspaper, strum your guitar or just sit and watch the world go by. At hotels, porches were places for people to interact with each other, to make new friends, enjoy a favorite beverage or plan the next day. From the porch of the Waterville Historic Hotel you have a front row seat to the peaceful green of Pioneer Park and the flow of life in Waterville.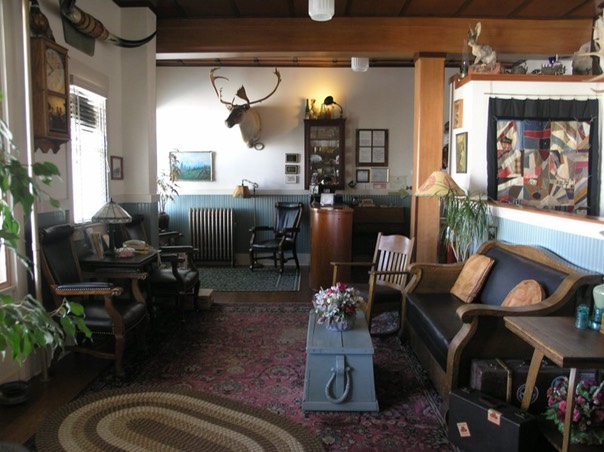 The lobby serves to welcome travelers to the unique accommodation experience the Waterville Historic hotel provides. Built as a hotel, many of the original furnishings reside throughout the building and provide a strong connection with the past. Together these objects tell a story of pride and craftsmanship in an era of exploration and settlement.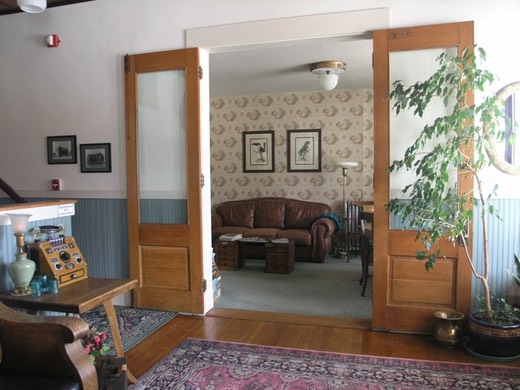 Just off the lobby is a common area that we refer to as the Tearoom. This room provides a place for guests to enjoy morning refreshments and in the evening the tables are available for a game of scrabble, reading the newspaper or a place to mingle with other guests.
The Library provides a quiet spot to read and immerse yourself in  area information, classics and a smattering of "just for fun". The library and bookshelves in the 2nd floor hallway hold a variety of entertaining books, magazines and brochures. Various displays of historic hotel photos are found throughout the building. 
Copies of articles on the hotel are available at the front desk in addition to other informational handouts and flyers.